Faculty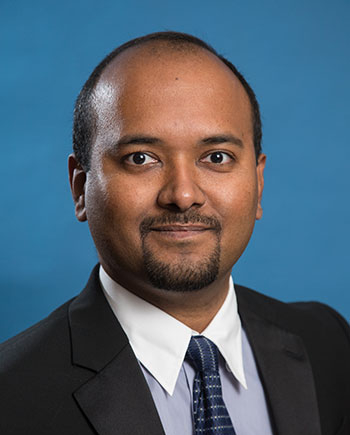 Dr. Harish Sarma Krishnamoorthy, Senior Member IEEE

Assistant Professor - ECE Department, Associate Director - PEMSEC Consortium, Associate Editor - IEEE Transactions on Power Electronics;

Office Location

N330 Engineering Building 1

Email

hskrishn

[at]

uh.edu

Publications
Education
Ph.D., Electrical and Computer Engineering, Texas A&M University, College Station, TX
B.Tech., Electrical and Electronics Engineering, National Institute of Technology (NIT), Tiruchirappalli, TN, India
Professional Experience
Schlumberger REMS, Sugarland, TX, 2015-2017
General Electric (GE) Energy, Hyderabad, AP, India, 2008-2010
Ford Motor Company Research Headquarters, Dearborn, MI, 2012
Google Inc., Mountain View, CA, 2014
Classes
ECE-6305: Power Converters and Control
ECE-6318: Power Converters - Modeling and Applications
ECE-6343: Renewable Energy and Distributed Generation
ECE-5380: Power Electronics and Electric Drives (Undergraduate)
ECE-5388: Renewable Energy Technology (Undergraduate)
Awards & Honors
OTC Emerging Leader - recognized by the Offshore Technology Conference (OTC) 2022
Research Excellence Award - 2022, UH Cullen College of Engineering
Teaching Excellence Award - 2021, UH Cullen College of Engineering
Best Presentation awards for outstanding papers in 'Power Electronics for Utility Interface' sessions at IEEE APEC conferences held in 2013 as well as 2015.
Senior Member of the IEEE
Steering Committee Member of IEEE Power Electronics Society's Mentorship group (2017 to present).
General Chair of the IEEE PELS Mentorship round tables' event during ECCE-2017 and ECCE-2019 conferences
Chair of IEEE PELS Young Professional (YP) Committee (2020-2021) and Chair of IEEE PELS Day 2021 Steering Committee
Active reviewer of reputed IEEE/Elsevier journals, including Transactions on Power Electronics (TPEL), Transactions on Industrial Applications (IAS), etc. as well as for reputed IEEE conferences such as APEC and ECCE.
Innovation Champion award certificate from GE for multiple invention disclosures.
GE's DFSS and DMAIC 6-Sigma Green Belt Certification.
Core Member of Organizing Committee, IEEE PELS FEPPCON - 2022
General Secretary of award winning Texas A&M University's IEEE IAS/PELS/PES SB chapter (2012-2013).
Editorial Boards
Associate Editor, IEEE Transactions on Power Electronics
Research Interests
High density power converters, solid state transformers (SSTs) and control for utility grid integration of renewable energy (wind, solar, etc.), data centers, electric vehicles and adjustable speed drives
Advanced power electronics and health analytics (using machine learning and statistical methods) for applications involving extreme environments or critical mission profiles such as defense, aerospace, downhole and subsea
Power conversion for RF related applications (such as RADAR, 4G/5G Communication, and NMR Metrology)
Funded Research
Mini-PulPS: Miniaturized Pulsed Power Systems for Mission Critical Applications (U.S. DOE/ARPA-E OPEN 2021)
ComET: Power conversion for 4G/5G envelope tracking (U.S. DoD/Navy)
HIPER: High density power conversion using GaN devices and machine learning based prediction of remaining useful life (U.S. DoD/Navy)
Battery Power Technology: Improving reliability, resiliency and gain of power conversion for grid energy storage (Sandia National Labs)
Solid State Transformers (SSTs): Multi-port energy router for offshore renewable integration with oil & gas production (TCEQ/SSI)
Selected Publications
Y. Yao, G. S. Kulothungan, H. S. Krishnamoorthy, et al., "GaN based two-stage converter with high power density and fast response for pulsed load applications" in the IEEE Transactions on Industrial Electronics, 2022
Y. Yao, G. S. Kulothungan, and H. S. Krishnamoorthy, "Improved circuit design and adaptive burst mode control in PSFB converters for higher efficiency over a wide power range" in IEEE Access, vol. 10, pp. 9152-9163, 2022
V. Balan, W. Zhu, H. Krishnamoorthy, et al., "Challenges and opportunities in Producing High-Quality Edible Mushrooms from Lignocellulosic Biomass in a Small-Scale" in the Journal of Applied Microbiology and Biotechnology (Springer), 2022
G. S. Kulothungan, H. Sayed, and H. S. Krishnamoorthy, "Novel Method for Accelerated Thermal Cycling of Gallium Nitride Power Devices to Perform Reliability Assessment", in IEEE Applied Power Electronics Conference (APEC), Mar. 2022, Houston, TX, USA
H. Sayed, G. S. Kulothungan, H. S. Krishnamoorthy, "Dynamic Remaining Useful Lifetime (RUL) Estimation of Power Converters based on GaN Power FETs", in the IEEE Applied Power Electronics Conference (APEC), Mar. 2022, Houston, TX, USA
A. Karbozov, M. G. Majumder, H. S. Krishnamoorthy, and K. S. Rajashekara, "Medium Frequency SST Based Multiport Energy Routers for Subsea – Renewable Interconnection", in the IEEE Applied Power Electronics Conference (APEC), Mar. 2022, Houston, TX, USA
M. F. Baba, A. V. Giridhar, B. L. Narasimharaju and H. S. Krishnamoorthy, "Non-isolated Switched Inductor - Capacitor based High Gain DC-DC Converter," 2021 IEEE National Power Electronics Conference (NPEC), 2021, pp. 1-6
Y. Yao and H. S. Krishnamoorthy, "High Density Power Converter Design for Pulsed NMR Applications," 2021 IEEE Energy Conversion Congress and Exposition (ECCE), Oct. 2021
G. S. Kulothungan, Y. Yao, H. S. Krishnamoorthy, H. Soni and A. Das, "A Novel Trapezoidal Slope Compensation Technique with Peak Current Mode Control for Power Converters Switching at MHz Frequencies," 2021 IEEE Energy Conversion Congress and Exposition (ECCE), Oct. 2021
F. Islam and H. S. Krishnamoorthy, "Doubly-fed Solid State Auto-Transformer (SSAT) concept for Multi-pulse Rectifiers," 2021 IEEE Energy Conversion Congress and Exposition (ECCE), Oct. 2021
H. Sayed and H. S. Krishnamoorthy, "Fault-Tolerant Z-Source-based Isolated DC-DC Building Blocks for Mission-Critical DC Distribution Applications," IECON 2021 – 47th Annual Conference of the IEEE Industrial Electronics Society, Oct. 2021
S. Yerra and H. S. Krishnamoorthy, "Simplified Gate Driving Strategy for GaN-Based Multi-level Buck Converters Operating at Multi-MHz Switching Frequencies" – at the IEEE Applied Power Electronics Conference (APEC), Jun. 2021
S. Yerra and H. S. Krishnamoorthy, "Cascaded Switching Capacitor Based Multi-Phase Three-Level Buck Converter for Communication Envelope Tracking" – at the IEEE Applied Power Electronics Conference (APEC), Jun. 2021
H. S. Krishnamoorthy and T. N. Aayer, "Scalable Power Converter Architectures with Quantized Output and Envelope Prediction for Wireless Communication" – at the IEEE Applied Power Electronics Conference (APEC), Jun. 2021
H. S. Krishnamoorthy, K. S. Rajashekara, A. Das, J. Hawke, et al., "GaN-based Compact Power Supplies with Fast Response for Pulsed Radar Applications" – at U. S. DoD GOMACTech Conference, Mar. 2021
A. R. Sadat and H. S. Krishnamoorthy, "Fault-Tolerant ISOSP Solid-State Transformer for MVDC Distribution," in IEEE Journal of Emerging and Selected Topics in Power Electronics (JESTPE), Oct. 2020
S. Yerra, Y. Yao and H. S. Krishnamoorthy, "Single Stage Three-Level Interleaved Buck Converter with Current Self-Balancing for Improved Point-of-Load Performance", 2020 IEEE PESGRE, Cochin, India, Jan. 2020
G. Selvaraj, A. Sadat, H. S. Krishnamoorthy and K. Rajashekara, "Fault-Tolerant Real-Time Operation of Power Conversion in EV Application", 2020 IEEE PESGRE, Cochin, India, Jan. 2020
Y. Yao, S. Yerra and H. S. Krishnamoorthy, "Linear Assisted DC/DC Converter for Pulsed Mode Power Applications", IEEE PESGRE, Cochin, India, Jan. 2020
S. M. Babu, V. K. S. Veeramallu, B. L. Narasimharaju, A. K. Rathore and H. S. Krishnamoorthy, "Novel Non-Isolated Differential Buck-Boost Inverter with Single-Stage Conversion and Reduced Device Voltage Stress", 2020 IEEE PESGRE, Cochin, India, Jan. 2020
S. M. Babu, V. K. S. Veeramallu, B. L. Narasimharaju, A. K. Rathore and H. S. Krishnamoorthy, " Novel Single-Stage Transformer-less Cascaded Differential Boost Single-Phase PV Inverter for Grid-Tied Applications", 2020 IEEE PESGRE, Cochin, India, Jan. 2020
A. R. Sadat and H. S. Krishnamoorthy, "Measure Theory-based Approach for Remaining Useful Lifetime Prediction in Power Converters," IEEE Energy Conversion Congress and Exposition (ECCE), Detroit, MI, USA, Oct. 2020
Y. Yao and H. S. Krishnamoorthy, "LLC Resonant Converter using Pre-Charged Capacitor for High Input Voltage – High PAPR Envelope Tracking," IEEE Energy Conversion Congress and Exposition (ECCE), Detroit, MI, USA, Oct. 2020
Y. Yao, G. S. Kulothungan and H. S. Krishnamoorthy, "Comparative Study on Practical Implications of Digital Peak Current and Hysteresis Current Controllers for MHz Frequency DC/DC Converters", IEEE PEDES Conference, India, Dec. 2020
S. Yerra, G. S. Kulothungan and H. S. Krishnamoorthy, "Design and Analysis of Fourth Order ZVS Output Filter for Three-Level Buck Envelope Tracking Power Supply", IEEE PEDES Conference, India, Dec. 2020
A. R. Sadat, Y. Yao and H. S. Krishnamoorthy, "Power FET Degradation based on Thermal Equilibrium during Mission-Profile Characterization", IEEE PEDES Conference, India, Dec. 2020
H. S. Krishnamoorthy and T. Narayanan Aayer; " Machine Learning based Modeling of Power Electronic Converters", 2019 IEEE ECCE, Baltimore, MD
S. Yerra and H. S. Krishnamoorthy, "Multi–Phase 3–Level Buck Converter with Current Self -Balancing for High Bandwidth Envelope Tracking Power Supply" 2020 IEEE Applied Power Electronics Conference and Exposition (APEC), New Orleans, LA, Mar. 2020
S. Yerra, Y. Yao and H. S. Krishnamoorthy, "Single Stage Three-Level Interleaved Buck Converter with Current Self-Balancing for Improved Point-of-Load Performance", 2020 IEEE PESGRE, Cochin, India
Y. Yao, S. Yerra and H. S. Krishnamoorthy, "Linear Assisted DC/DC Converter for Pulsed Mode Power Applications", 2020 IEEE PESGRE, Cochin, India 
Solid State Transformer for Grid Interface of High Power Multi-Pulse Rectifiers, HS Krishnamoorthy, JJ Sandoval, PN Enjeti, Industrial Applications, IEEE Transactions on – Accepted, Early Access, 2018
Isolated AC – DC Converter using Medium Frequency Transformer for Off-Shore Wind Turbine DC Collection Grid, HS Krishnamoorthy, MT Daniel, J Ramos-Ruiz, PN Enjeti, Industrial Electronics, IEEE Transactions on, 2017
Wind Turbine Generator–Battery Energy Storage Utility Interface Converter Topology with Medium-Frequency Transformer Link, HS Krishnamoorthy, D Rana, P Garg, PN Enjeti, IJ Pitel, Power Electronics, IEEE Transactions on 29 (8), 4146-4155, 2014
Power Electronics for Subsea Systems: Challenges and Opportunities, K Rajashekara, HS Krishnamoorthy, Power Electronics for Distributed Systems (PEDS) Conference, 2017
Medium voltage power distribution architecture with medium frequency isolation transformer for data centers, B Hafez, HS Krishnamoorthy, P Enjeti, S Ahmed, IJ Pitel, Applied Power Electronics Conference and Exposition (APEC), 2014
A new wind turbine generator/battery energy storage utility interface converter topology with medium-frequency transformer, HS Krishnamoorthy, D Rana, PN Enjeti, Applied Power Electronics Conference and Exposition (APEC), 2013
A new multilevel converter for Megawatt scale solar photovoltaic utility integration, HS Krishnamoorthy, S Essakiappan, PN Enjeti, RS Balog, S Ahmed, Applied Power Electronics Conference and Exposition (APEC), 2012
Independent control of series connected utility scale multilevel photovoltaic inverters, S Essakiappan,  HS Krishnamoorthy, P Enjeti, RS Balog, S Ahmed, Energy Conversion Congress and Exposition (ECCE), 2012
New medium-voltage Adjustable Speed Drive (ASD) topologies with medium-frequency transformer isolation, HS Krishnamoorthy, PN Enjeti, IJ Pitel, JT Hawke, Power Electronics and Motion Control Conference (IPEMC), 2012
A matrix converter-based topology for high power electric vehicle battery charging and V2G application, HS Krishnamoorthy, P Garg, PN Enjeti, IECON 2012-38th Annual Conference on IEEE Industrial Electronics Society, 2012
A new utility-scale power converter for large fuel cell power plants with individual stack power control, HS Krishnamoorthy, JT Hawke, PN Enjeti, Applied Power Electronics Conference and Exposition (APEC), 2012
A new medium-voltage energy storage converter topology with medium-frequency transformer isolation, HS Krishnamoorthy, P Garg, PN Enjeti, Energy Conversion Congress and Exposition (ECCE), 2012
Patent/Patent Applications
Integrated Electric Meter with VAR Capability (US 2012/0169300 A1, EP2472693A2)
Systems and Methods for Temperature Compensation in a Utility Meter (US 2014/0100808 A1) - Pending
Invited Talks
- "Future Electric Grid with Power Electronics based Utility Interface" – invited talk at the National Workshop on Grid Power Electronics Technologies @IIITDM Kancheepuram, Chennai, India, Feb. 2022
- "Future Electric Grid with High Renewable Penetration" – webinar for IEEE IAS student branch chapter (SBC), National Institute of Technology- Calicut, Kerala, India, Dec. 2021
- "Potential opportunities for higher education in the US & Exploring about IEEE, PELS" – invited webinar for IEEE SBC Panimalar Institute of Technology in Oct. 2021
- "Future Electric Grid with High Renewable Penetration" – invited webinar for the Department of EEE, SRM TRP Engineering College and IEEE student branch chapter (SBC), SRM TRP Engineering College in Oct. 2021
- "Future Electric Grid with High Renewable Penetration" – invited webinar for IEEE MACE SBC, Kerala in Aug. 2021
- "Electric Grid and Renewable Energy" – invited technical talk for Performatica in Aug. 2021
- "Power Electronics for Renewable Energy Systems" – invited webinar for IEEE RSET SBC in collaboration with IEEE IA/IE/PELS Jt. Chapter, Kerala as a part of IEEE PELS DAY celebrations in Jun. 2021
- "Electric Vehicles: Architectures and Technologies" – invited webinar for IEEE SBC Panimalar Institute of Technology as a part of IEEE PELS DAY celebrations in Jun. 2021
- "Introduction to Electric Vehicles" – faculty development program (FDP) lecture at the National Institute of Technology (NIT) Tiruchirappalli, India in Jun. 2021
- "DC – DC Converters in Electric Vehicle Applications" – faculty development program (FDP) lecture at the NIT Tiruchirappalli, India in Jun. 2021
- "Energy Storage Systems for Future Electric Grids with High Renewable Penetration" – Keynote address at India AICTE sponsored i-SMaRT conference, Kerala, in Apr. 2021
- "Electrification of Rail and Sea Transportation" – invited webinar via UH Energy for Evolve Houston in Feb. 2021
- "Isolated DC-DC Converters for Electric Vehicles" – faculty development program (FDP) lecture at the National Institute of Technology (NIT) Calicut, India in Jan. 2021
- "Advances in Solid State Transformers and Machine Learning for Renewable Energy Applications" – Keynote address at Springer MARC Conference in Dec. 2020
- "IEEE Young Professionals – Opportunities and Operations" – at IEEE India Council's AISYWLC Conference, in Dec. 2020
- "Solid State Transformers and Their Applications in Offshore Energy Systems" – at IEEE Hyderabad Section, India in May 2020
- "Solid State Transformers and Their Applications in High Power Renewable Energy Systems" – at IEEE Kerala Section, India in May 2020
- "India: Opportunities for Capability Building in New Power Electronic Technologies" – at IEEE Hyderabad Section, India in May 2020
- "Solid State Transformers and Their Applications in Marine Energy Systems" – at IEEE Marine Energy Systems Day, IEEE Galveston Bay Section PES Chapter in Apr. 2020
- "IEEE Power Electronics Society (PELS) – Opportunities for Students and Young Professionals" – at IEEE PESGRE Conference, India in Jan. 2020
- "Renewable Energy and Distributed Power Generation" – 2 week course to the students and faculty of NIT Warangal, India in Dec. 2019
- "Smart and Reliable Power Conversion for Modern Applications" – at IEEE sponsored National Power Electronics Conference (NPEC) at NIT Tiruchirappalli, India in Dec. 2019
- "Opportunities for Young Professionals in IEEE Power Electronics Society" – at NIT Warangal, India in Dec. 2019
- "Current and Future Trends in the Area of Power Conversion" – at CDAC, Ministry of Electronics and Information Technology, Govt. of India in Dec. 2019
- "Opportunities for Research and Education in the United States" – at NIT Warangal, India in Dec. 2019
- "Modern Trends and Agile Practices in Power Conversion" – Keynote Speech at Schlumberger Technology Workshop in Nov. 2019
- "Solid State Transformers: Technology for a Smarter Power Conversion" – at Toshiba Corporation in May 2019
- "Solid State Transformer (SST): Technology for a Smarter Grid" – at CenterPoint Energy in Feb. 2019
Presentations
Presentation on Electric Vehicles: https://prezi.com/view/Z9OOMAaWR7Heh2d06LUl/