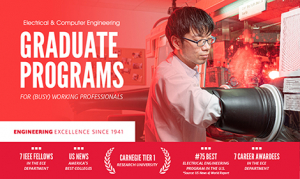 Advanced knowledge and credibility you need to get ahead in today's competitive workplace.
Become a more valuable employee and an expert in your field, and increase your earning potential.
Set your resume apart from the competition and stand above the crowd.
Pursue new career growth opportunities. Become eligible for higher-level leadership jobs that expect an advanced degree.
Get the knowledge and flexibility to cope with a changing workplace.
Mark an accomplishment that you and your family will be proud of.
Develop life-long learning skills, and grow your professional network. 
Discover which option is best for you:
MS in Electrical Engineering (Thesis & Non-thesis Options)
MS in Computer Systems Engineering
Ph.D. in Electrical Engineering
An Opportune Time to Earn a Graduate Degree
Earning a graduate degree (MS, Ph.D.) has become easier and more affordable than ever.
Online and On-Campus Options: Most of our graduate classes can now be taken fully online, without having to commute to/from the campus. Some of the courses are offered in an asynchronous online format, providing you maximum schedule flexibility. You get the same world-class education in a way that fits your busy work life.
Employer Tuition Benefits: Major employers offer generous tuition benefits to employees, and you can take advantage of low in-state tuition rates, making your graduate degree more affordable, and in many cases, practically free. Have you spoken with your Human Resources department?
Manager and Family Encouragement: You may be surprised at just how supportive your work manager and family members will be of your graduate studies. This may be the time to have that conversation, and work out the right pace of study.
Expedited Online Graduate Application: The application process is straightforward and conveniently online. Our staff are happy to assist you with any questions. With sufficient relevant work experience, we may be able to waive the standardized GRE & TOEFL test scores.
Thesis Synergy: If you are employed in research and development activities, we may be able to offer a thesis topic that matches your area of expertise. Many thesis projects can be done remotely. You can meet with your thesis advisor via online teleconferencing and get the personal attention you deserve. We invite you to speak with our faculty members and explore the possibilities.
Interested in Learning More?
Please contact Kelly King (knking [at] central.uh.edu, 713-743-7955) and provide the following information:
Your name (last, first) 
Preferred method of contact (phone number and/or email address)
Highest degree(s) presently held (name of the university, date degree was received and GPA)
A summary of your industry work experience and future goals